Isadora Duncan (1877-1927)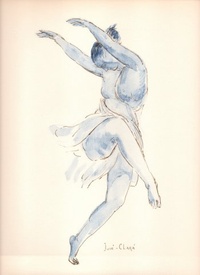 "There was never a place for her in the ranks of the terrible, slow army of the cautious. She ran ahead, where there were no paths." - Dorothy Parker, 1928
Isadora Duncan (1877-1927), often called the "mother of modern dance" was born in San Francisco and went on to liberate dance from the confines of the ballet of her time, shedding slippers and corset to combine the use of simple, natural movement with a vibrant musicality. She sought a movement vocabulary that would illuminate the human spirit and its connection to nature and she was the first to choreograph to music not originally written for dance, including the works of Beethoven, Chopin, Brahms, and Scriabin. Duncan's career was marked by controversy as American audiences took exception to her bare limbs and bold movement. She was determined to succeed and left with her boundless spirit to Europe and Russia where she met and inspired the some of the great artists of her time. In May 1899 Isadora and her family traveled to London, in search of ways to explore art history and connections to movement. Isadora studied the Greek and Roman antiquities at the British Museum sitting for hours in front of the artworks and imagining how they might move. Here she met and performed for prominent Londoners dancing the legend of Orpheus, to the music of Gluck. In The Art of the Dance Isadora described herself as neither the narrator nor the character of the myths she danced, but the "soul of the music". She danced as a soloist but always imagined herself to be the Greek Chorus reflecting the voices of nature and humanity.
The following year Isadora followed her brother Raymond to Paris, where he sketched and she studied the Louvre's Greece vase collection. After a tour with Loie Fuller's company, Isadora was invited to perform her own program in Budapest, Hungary (1902), where she danced to sold-out performances with a full orchestra. Her famous encore was The Blue Danube. Performances followed in Berlin, Vienna and Munich. Many visual artists documented her ecstatic movement including Emile-Antoine Bourdelle, Peter Berger, Robert Henri, August Rodin, Jose Clara (see image above), Jules Grandjouan, Valentine Lecomte and Abraham Walkowitz.
Between 1904 and 1907, Duncan lived and worked in Greece, Germany, Russia and Scandinavia. During this time she collaborated with the scenic designer Gordon Craig and the Russian theatre director Konstantin Stanislavsky. In 1904, Duncan established her first school of dance in Grunewald, Germany followed by schools in France and Russia. Here she began to develop her theories of dance education and to organize her famous dance group, dubbed by the press, the Isadorables. Duncan built a home in Kapanos, Greece and traveled widely touring to South America, throughout Europe, Russia and Egypt. When she performed in Russia she made a profound impact on the Russian ballet which immediately (via Mikhail Fokine and his Les Sylphides) adopted her musical choices and more naturalistic approach to movement.
Although Isadora was drawn to Greek myths and philosophy, her work was grounded in the deep expressive power of the body. She recreated, rather than copied, ancient themes and allowed the body to feel weight and the force of gravity. She defined the solar plexus as the "central spring of all movement" (Duncan, "My Life"). As a performer, documented in reviews and personal accounts, she moved audiences deeply throughout her career, and presented movement stripped of décor and theatrical artifice. This striking modernism continued as the tragic events of her live unfolded. After the deaths of her two children she stopped dancing and creating for over a year and when she returned it was with a weighted force and abstraction that connected her initial creations, inspired by nature and antiquity, to large group works and a focus on political struggle.
Isadora and Irma Duncan (devoted student and teacher of the next generation) traveled to Russia in 1921, at the invitation of the Russian government, where they formed a school for children. There Isadora created and performed works which embodied the fight for long denied freedoms, and dedicated songs and dances to the Russian workers and Russian children. Conditions in Russia were bleak with the school often suffering unheated studios and poor rations. When Isadora Duncan returned to the United States in October 1922 after her triumphant appearances in Moscow, she brought back a boundless enthusiasm for the Soviet system and a Russian husband, Sergei Esenin, almost two decades her junior. Her return was widely covered in the press because she and Sergei Esenin, popular Russian poet were briefly detained by the immigration authorities at Ellis Island under suspicion of being "Bolshevik agents."
In 1927, Isadora agreed to publish her memoirs "My Life" and finished writing and dictating them to her secretary, Mary Desti. Her last performance was at the Mogador Theatre in Paris on July 8. On September 14, 1927, at age 50, Isadora was killed in an open sports car when her scarf was entangled in the spokes of the rear wheel.
As no films or notation of Isadora's dances were made until long after her death in 1927, Duncan's choreography has been preserved through the teaching of one generation of Duncan dancers to the next. Over the past 90 years generations have continued to study with Duncan's disciples throughout the world. The "Isadorables" adopted by Duncan in 1919 taught the next generation of students and they became the important Duncan teachers of the 20th century. These include Julia Levien, Hortense Kooluris, Gemze DeLappe, Annabelle Gamson, Mignon Garland and Sylvia Gold.
Many choreographers who followed Isadora Duncan transferred her influence to new generations. In Berlin, Michio Ito saw performances by Isadora Duncan (along with Pavlova and Nijinsky), which was the inspiration directing him toward a career in dance. Jose Limón regarded Isadora Duncan as his "dance mother," and in 1972 created a series of solos evoking different periods of her life by intertwining aspects of her artistic and personal lives. Katherine Dunham knew of Duncan's bold attitudes towards personal freedom of expression and natural movement. Dunham explained that Isadora Duncan let dance out of the cage of the old ballet and that Sergei Diaghilev (in exile with the Russians in Paris) gave structure to the new energy Isadora unleashed. (from Kaiso! Writings by and about Katherine Dunham). Duncan, as the "mother of modern dance" planted the seeds of innovation for dance artists of the 20th century and continues to inspire into the 21st .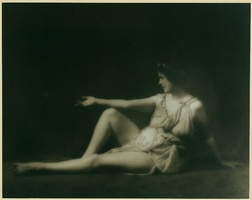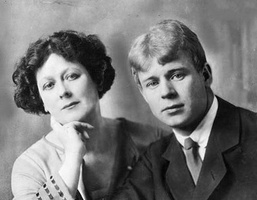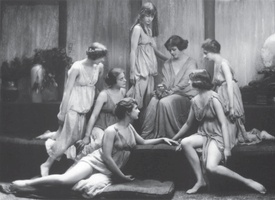 Related items in the Archives
The Collection of Joanna Gewertz Harris > Photos > Isadora at Lido, Venice Beach — Photograph by Raymond Duncan — 1903
The Collection of Barbara Kane > Photos > Photo of Isadora
The Collection of Barbara Kane > Photos > Irma, Isadora, and Sergei
The Collection of Janaea Rose Lyn (McAlee) > Photos > Double exposure by Richard Stoots — Arnold Genthe, Richard Stoots
The San Francisco Museum of Performance and Design > Programs > Isadora Duncan — Nov 25, 1917
The Collection of Christy Cornell-Pape > Programs > Dances and Choruses from Iphigenie in Aulide — Isadora Duncan — Jul 06, 1908
The Collection of Christy Cornell-Pape > Programs > Chopin and Schubert — Isadora Duncan — Jul 29, 1908
The Collection of Christy Cornell-Pape > Programs > A Revival of the Greek Art of Two Thousand Years Ago — Isadora Duncan and Walter Damrosch — Nov 08, 1908
The Collection of Barbara Kane > Programs > Isadora Duncan — 1908
The Collection of Janaea Rose Lyn (McAlee) > Programs > Isadora Duncan — Nov 21, 1916
The San Francisco Museum of Performance and Design > Artwork > Drawing of Isadora by Jules Grandjouan
The Collection of Barbara Kane > Artwork > Four drawings of Isadora in the Butterfly Etude
The Collection of Janaea Rose Lyn (McAlee) > Artwork > Isadora at end of Rose Petals
The Collection of Janaea Rose Lyn (McAlee) > Artwork > Knucklebones
The Collection of Janaea Rose Lyn (McAlee) > Artwork > Jose Clara drawing
The Collection of Janaea Rose Lyn (McAlee) > Artwork > Drawing of Isadora by Van Dearing Perrine
The Collection of Barbara Kane > Leaflets > The Dance of Isadora Duncan
The San Francisco Museum of Performance and Design > News Clippings > Miss Duncan Triumphs in Homecoming at Columbia, Nov. 26, 1917 review
The San Francisco Museum of Performance and Design > News Clippings > Newspaper ad for My Life
The Collection of Christy Cornell-Pape > News Clippings > Review of Isadora's New York performance, New York World, 11/7/08 — Nov 07, 1908