Kay Bardsley (1921-2011)
Primary teachers: Maria-Theresa Duncan
Began studying Duncan dance: 1930 (Second Generation)
Areas of expertise: Performer, Teacher, Historian, Scholar
Region: USA - West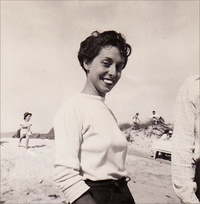 Publications
Bardsley, Kay. "A Dancing 'Isadorable': Maria-Theresa." Dance Scope 11, no. 2 (Spring/Summer 1977): 47-52.
Bardsley, Kay. "Isadora Duncan and the Russian Ballet." In Society of Dance History Scholars Proceedings, pp. 121-130. Eleventh Annual Conference, North Carolina School of the Arts, 12-14 February 1988.
Bardsley, Kay. "Re-animations of Duncan Masterworks: Imbued with the Fire of Maria-Theresa Duncan—A Four-year Project, 1976-1980." In Proceedings of the Conference "Dance Reconstructed: Modern Dance Art Past, Present, Future," pp. 191-200. Rutgers University, New Brunswick, NJ, October 16-17, 1992.
Bardsley, Kay. "Social Cause as Dance, Enter Isadora." Ballet Review 22, no. 2 (Summer 1994): 73-83.
Bardsley, Kay. "The Duncans at Carnegie Hall." Ballet Review 19, no. 3 (Fall 1991): 85-96.
Bardsley, Kay. "Isadora Duncan's First School: the First Generation Founders of the Tradition." Dance Research Collage, edited by Patricia A. Rowe and Ernestine Stodelle, 219-250. New York: CORD.
The Last Dancing Isadorable. Kay Bardsley. 1988. 30 minutes (Maria-Theresa Duncan).
Affiliations
Isadora Duncan International Institute — Founder and Executive Director (since 1977)
Related items in the Archives
The San Francisco Museum of Performance and Design > Programs > Maria-Theresa Duncan — Heritage Group — Feb 24, 1979
The Collection of Barbara Kane > Programs > Three Full Length Masterworks — Maria-Theresa Duncan — Heritage Dance Company — 1979
The Collection of Barbara Kane > Programs > Anita Zahn Memorial Celebration — Nov 05, 1995