Shannon McMullan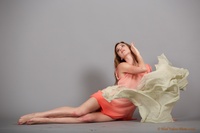 Shannon is a native Houstonian where she grew up dancing ballet, tap, and jazz. In May 2015, she received her BFA in Dance with an emphasis in Performance and Choreography from Texas State University in San Marcos, Texas. During her education, she heavily studied the Erick Hawkins technique which led her to discover a love of historical modern dance. Shannon was first introduced to the Duncan technique spring of 2014 by her close friend and mentor, Meg Brooker, and ever since has dedicated her performance career to the lineage of Isadora Duncan. Upon graduation, Shannon traveled to Chicago to attend the Isadora Duncan International Symposium and then attended Dances by Isadora's summer intensive in New York City, under direction of Catherine Gallant and Loretta Thomas.
Shannon now lives in New York City where she is a full-time apprentice for Dance Visions under direction of Beth Jucovy and a part-time dancer for Dances by Isadora under direction of Catherine Gallant. She is a company member and collaborator with L E M I Collective, a contemporary and improvisational dance company, where she has performed at various festivals throughout the New York City area including: Queensboro Dance Festival, Biomorphic Dance Festival, Gibney Dance Pop Showing, and Fertile Ground. In June 2016 as a part of Danspace Projects, Shannon performed "Presto" choreographed by Loretta Thomas at St. Marks Church in-the-Bowery with Dances by Isadora and Catherine Gallant/DANCE.
Shannon is also an Administrative Assistant to the Research and Development team at a structural engineering firm. She was previously an Executive Assistant and Office Manager to investment teams and high level executives.
Shannon is currently working on a project exploring the relationship between a historical form, Duncan Technique, and computational modeling projections, new technology advancements for engineers and architects. She choreographs under SM-Dance Arts.

Affiliations
Dances by Isadora — Dancer (since 2015)
Dance Visions NY — Apprentice (since 2017)