Annette Mouret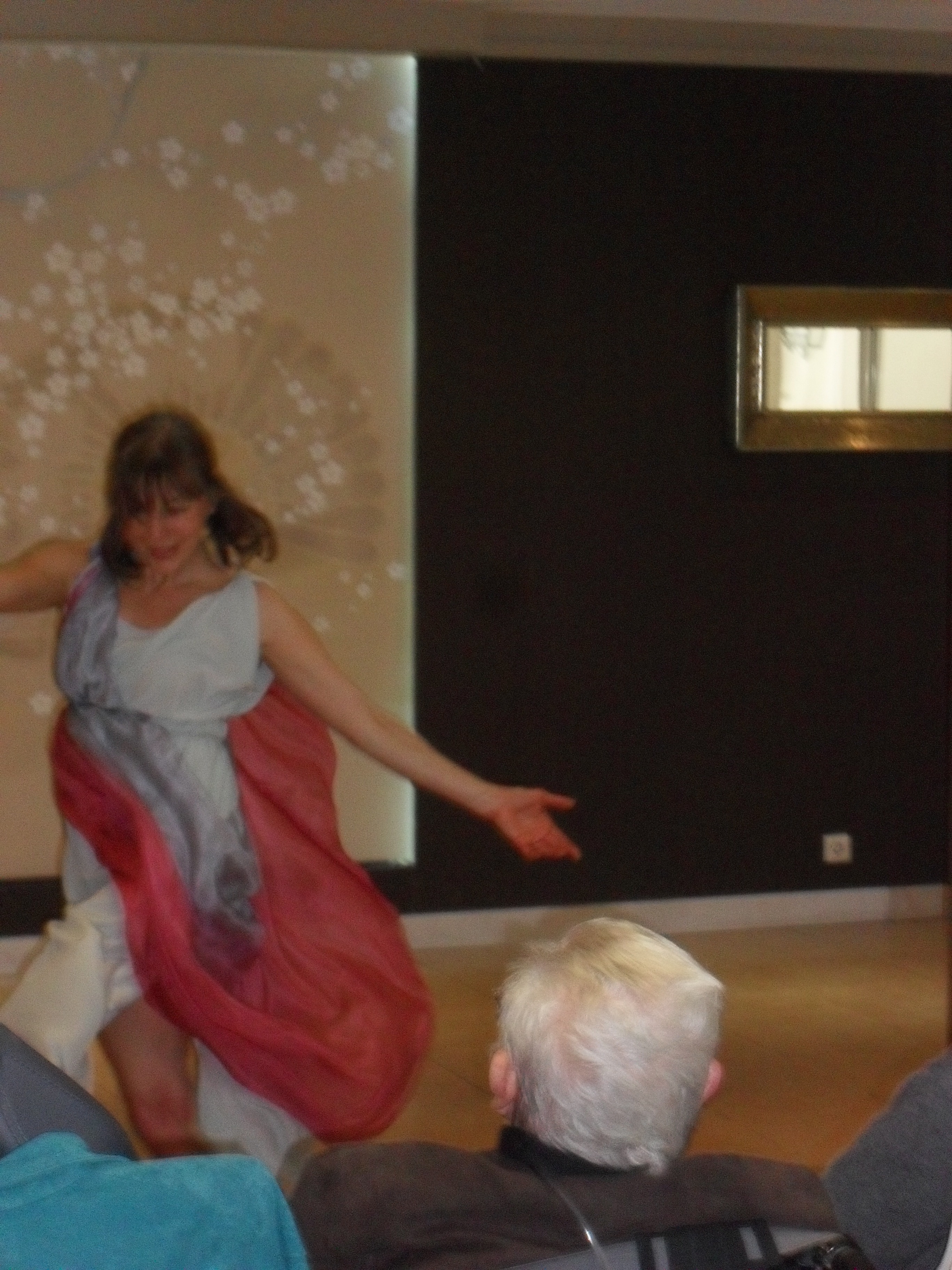 Studied classic dance from 10 to 14 years old.
As an actress, she discovered Duncan Dance seeing Madeleine Lytton dancing in Paris in 1987 and joined her classes during a few years.
Along with her and an another actor, in 1990, they create « Isadora Duncan, a poem of her life » a play with dances, poems and texts from Isadora Duncan's autobiography.
Then she met Barbara Kane who she appreciates both for her respect of technique and repertory, and her choreographic creations as well as the spirit she develops through her teaching.
Under her direction, and the help of her assistant in Paris, Françoise Rageau, Annette became seriously involved in Duncan dance. She also took classes with Odile Pyros in Paris
Annette joined the Isadora Duncan Dance Group in 1991, and took part of performances given in Moscow, London, Budapest, Tokyo, Paris … while going on with acting and singing.
From 2010 to 2013, as a duet with Beatrice Pegaz, coached by Barbara Kane, Annette gave regular Duncan Dance performances in residential homes throughout Paris.
Etudie la danse classique de 10 à 14 ans.
Comédienne, découvre la danse Duncan en voyant danser Madeleine Lytton en 1987 et suit ses cours durant quelques années.
Passionée par la vie et l'œuvre d'Isadora , avec Madeleine Lytton et un comédien, créent en 1990 le spectacle « Isadora Duncan, le poème de sa vie » alliant danses, poèmes, et écrits d'Isadora.
Elle rencontre ensuite Barbara Kane , dont elle apprécie à la fois son respect du répertoire et de la technique, et ses créations chorégraphiques, ainsi que l'esprit qui anime son enseignement . Sous sa direction, et celle de son assistante à Paris, Françoise Rageau, elle s'investit sérieusement dans cette danse, parallèlement à sa carrière de comédienne et chanteuse. Elle suit également les cours d'Odile Pyros à Paris.
Elle intègre Le Groupe de Danse Isadora Duncan en 1991 et participe aux spectacles créés à Moscou, Budapest, Londres, Tokyo, Paris …Elle poursuit parallèlement une carrière de comédienne et chanteuse.
En 2010 crée un duo avec Béatrice Pegaz, avec l'aide de Barbara Kane, elles se produisent régulièrement dans des maisons de retraite à Paris jusqu'en 2013.

Affiliations
Isadora Duncan Dance Group
Videos
| Collection | Title | Date |
| --- | --- | --- |
| Barbara Kane and the Isadora Duncan Dance Group London-Paris YouTube Channel | Isadora Duncan Dance Group: Tanagras | 2003-09-06 |
| Barbara Kane and the Isadora Duncan Dance Group London-Paris YouTube Channel | Isadora Duncan Dance Group: Valse Brillante | 2003-09-06 |
| Barbara Kane and the Isadora Duncan Dance Group London-Paris YouTube Channel | Isadora Duncan Dance Group: Dream Dance | 2003 |
| Barbara Kane and the Isadora Duncan Dance Group London-Paris YouTube Channel | Isadora Duncan Dance Group: Priestess | 2003 |
| Barbara Kane and the Isadora Duncan Dance Group London-Paris YouTube Channel | Isadora Duncan Dance Group: Air Gai and Lento | 2003 |