Christina Braun
Primary teachers: Mary Sano
Began studying Duncan dance: 1996 (Fourth Generation)
Areas of expertise: Performer, Teacher, Choreographer
Location: San Francisco (USA - West)
Phone: 4156360734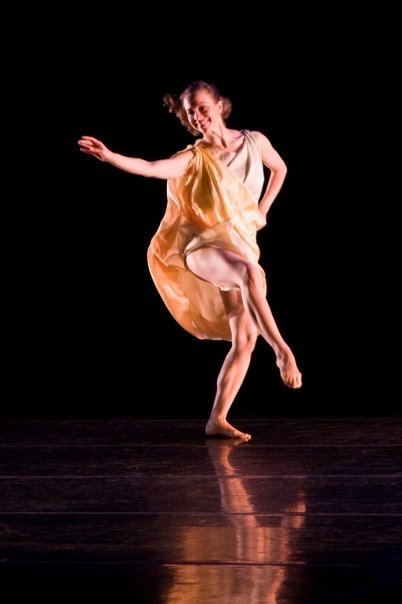 Dance artist Christina Anna Braun's choreography is influenced by her deep appreciation of Isadora Duncan technique and repertory and Butoh dance. She is inspired by classical and experimental music. Her work, always in collaboration with a musician, has been presented regularly since her 2002 evening length debut of "PeaceDreams". Her long term collaboration with instrument inventor Tom Nunn produces intriguing structured improvisations. Christina has performed with Mary Sano and her Duncan Dancers, Koichi and Hiroko Tamano's Harupin Ha, and Katsura Kan for over a decade.
Christina Braun was a founding member of Mary Sano and her Duncan Dancers, and was a soloist in the 2000 Japan and 2002 Hungary tours. Through Mary Sano's studio, Christina was privileged to be coached by Mignon Garland, and workshop with Sylvia Gold, Patricia Adams and Catherine Gallant. She performed with Ann Cogley's Isadora Duncan Repertory Dancers of Berkeley. Christina took the intensive in New York with Lori Beliove and Cherlyn Smith, and received coaching from Julia Levien. Christina was invited to be a guest dancer for Lori Belilove and Company in a 2006 California residency. Christina has taken master classes with Jeanne Bresciani and Barbara Kane.
Her project SF Butoh LAB organized Butoh Dance Symposia in 2005 and 2009 and also the Asian Art Museum's 2008 Butoh dance concert. Christina co-founded BUTOH San Francisco, producing two festivals. In the creativity and performance classes Christina curates, she gratefully acknowledges the direct sourcing of specific exercises and concepts. Christina's influential master teachers in the Butoh form include Akiko Motofuji, Yoshito and Kazue Ohno, Akira Kasai, and Yumiko Yoshioka.
Christina has a BA in Dance, and teaches dance to children. She does Isadora Duncan movement research and practice with Christina Fessenden and Christy Cornell-Pape. She lives in San Francisco with her daughter.

Related items in the Archives
The Collection of Christina Fessenden > Other > Isadora Duncan Project Performance 2003 — May 16, 2003