Yuki Ishiguro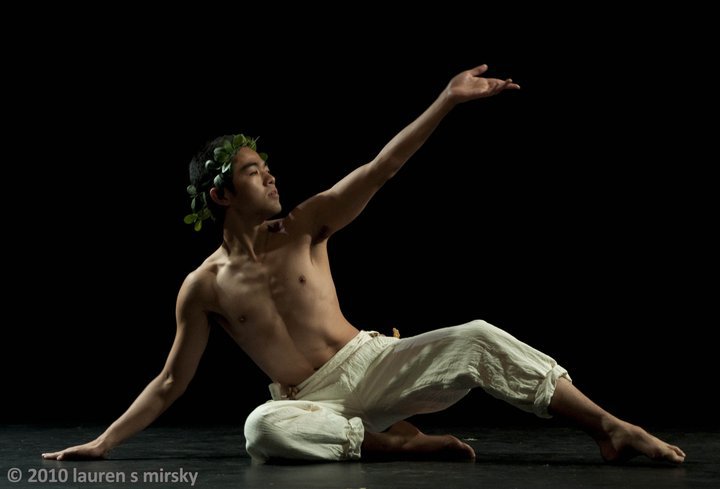 Originally from Japan,
Yuki joined Duncan based dance company, "Dance Visions NY"- Beth Jucovy
and "isadoraNOW" - Elyssa Dru Rosenberg in 2010.
In Duncan dance history, most of dances are performed by women.
His appearance was new challenge for Duncan dance.
He created male version Duncan poses and moves by his own interpretation.
It has been praised by New York dance reviews.
"Elyssa Rosenberg is seeking to expand on her Duncan vision beyond the realm of the feminine; she has two male dancers, one of whom couldn't be at the rehearsal today, and she is envisioning how Isadora might have used men in her dances back in the day. There are female-female partnering aspects in some of Isadora's works, but she seems never to have made use of male dancers. Yuki Ishiguro, one of the boys working with isadoraNOW, seemed quite reserved as he watched his colleagues rehearsing but when he started to dance he revealed an appealing dance-personality with a touch of the enigmatic."
"Yuki Ishiguro's rendering of Narcissus was especially poetic: this young dancer's range - from ballet to hip-hop - gives all his dancing a striking individuality."
" In Reminiscence Isadora, Yuki Ishiguro pulled off some brilliant break-dancing moves with such natural grace that they didn't seem out of place in the least." - Oberon"s Grove
Affiliations
Dance Visions NY — dancer (2010—2014)
isadoraNOW — dancer (2010—2012)
Links
Videos
| Collection | Title | Date |
| --- | --- | --- |
| Beth Jucovy and Dance Visions NY YouTube Collection | Dance Visions NY: Schubert Symphony Excerpts | 2013 |
| Beth Jucovy and Dance Visions NY YouTube Collection | Dance Visions NY: Tribute to Apollo | 2013 |
| Beth Jucovy and Dance Visions NY YouTube Collection | Dance Visions NY: Tribute to Artemis | 2012 |
| Beth Jucovy and Dance Visions NY YouTube Collection | Dance Visions NY: Excerpts from Midsummer Night | 2012 |