Amy Swanson
Primary teachers: Jeanne Bresciani | Hortense Kooluris | Julia Levien
Began studying Duncan dance: 1975 (Third Generation)
Areas of expertise: Performer, Teacher, Repertory Coach, Choreographer, Historian
Location: Paris, FRANCE (Europe)
Address: studio Le Regard du Cygne 210 rue de Belleville 75020 Paris France
Phone: +33 (0)143585593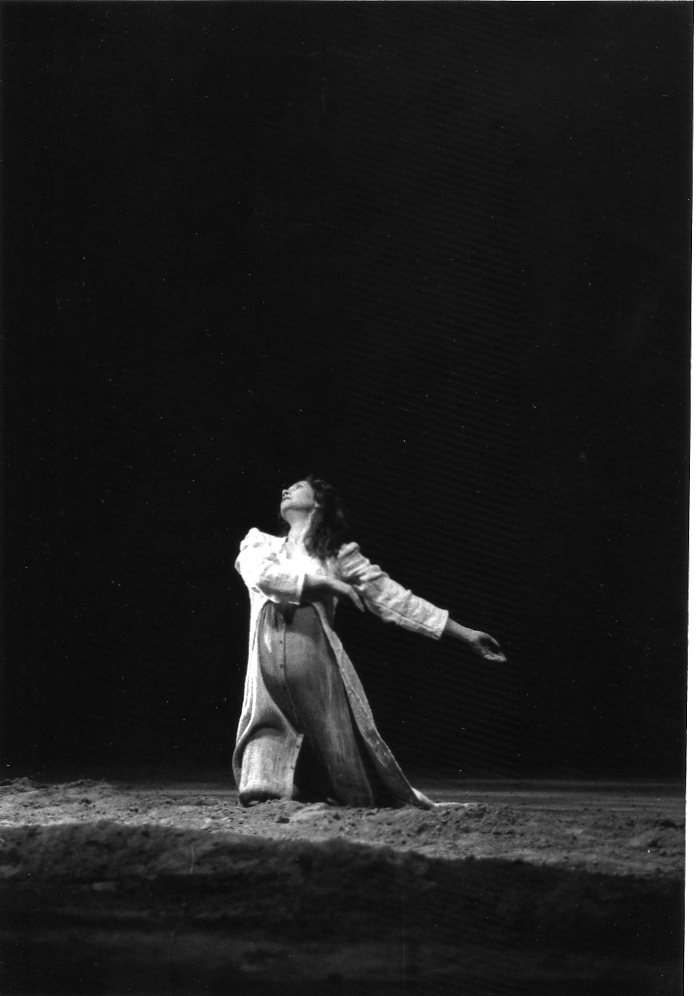 Amy Swanson, born in Salem, Ma., is a devout Duncan Dancer since 1975. She studied, performed and choreographed modern dance from an early age and discovered the Duncan archives at Lincoln Center in 1975 during a research project for her degree out in Western Massachusetts at the Five-College Program.
She found Jeanne Bresciani who was offering classes at NYU at that time. The shock! Duncan dancing was the very dance she had dreamed of dancing and sharing. Jeanne, in the singular tradition of Duncan generosity, introduced her to Victor Seroff and then to Julia Levien and Hortense Kooluris via their classes and rehearsals and Amy joined their company. Dancers present of that second generation after Isadora, was Sylvia Gold, Gemze de Lappe, and of our third generation we were many – Jeanne Bresciani, Barbara Kane, Judy Landon, the sisters Theda Detlor, Adrienne Ramm and Beth Jucovy, Lori Belilove, Pamela De Fina, Sincha…The "Isadora Duncan Centenary Dance Company" was formed in 1977-78, it then became the "Isadora Duncan Commemorative Dance Company" 1978-1980. Amy was often invited by Hortense to watch her rehearsal séances with Maria-Theresa Duncan in the Carnegie Hall studios and as a wedding gift from Hortense, Amy learned Isadora's Bacchanal dance in Hortense's garden…
Amy moved to Paris, France in 1980 and was invited by Ligoa Duncan, Raymond's daughter, to work at their Akademia on the rue de Seine where she performed a recital with Kathleen Quinlan. She met Madeleine Lytton, Odile Pyros from the original Lisa Duncan company in Paris and Maryanne Lebel, dance and pianist student of Elisabeth Duncan and Max Mertz. She danced for these French Duncan dancers, reminding them of forgotten dances and also discovered choreographies that she brought back to NY where Julia and Hortense rejoiced in seeing dances they had forgotten…."The Harp Étude" as danced by Odile was one of them and Julia described how she remembered Irma dancing it…. And it was then that Amy saw the limits of the dances – where the authentic choreography lay and where the job of the interpreter lies… Julia would visit Amy whenever she came to Paris and generously shared choreography and notions of interpretation with her each time. Amy is happy to have kept in close contact with Kathleen Quinlan Zetterberg and to have renewed connections with Barbara Kane and Jeanne Bresciani.
With her beloved husband Alain Salmon, Amy created two venues for dance: studio Le Regard du Cygne in Paris and the artists' residency À La Taille-Danseurs à la fin du temps in Normandy. She continues to choreograph, perform and has recently re-opened classes to those who seek dancing the repertory and the technique of Isadora Duncan. Paris, 2014

Links
Related items in the Archives
The Collection of Barbara Kane > Programs > Riverside Dance Festival — Julia Levien — Isadora Duncan Commemorative Dance Company — 1980