Pattee Russell-Curry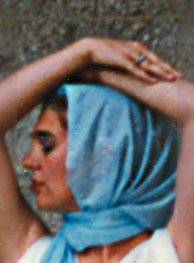 Pattee discovered Duncan dance vicariously after witnessing a Sacred Dance troupe in Marin County, The Sun Dancers in the 1980s. The Director, Annah McCluskey was a former member of the San Francisco Dionysian Duncan Dancers. Annah was a student at The Temple of Wings in Berkeley, CA, as well as a student of Mignon Garland. She took workshops with Lori Belilove. These influences were dominant in the liturgical dance company that Pattee experienced and ultimately joined and performed with in the 1980's. They were featured in a Newsweek Year in Pictures during the Harmonic Convergence. Annah generously donated Duncan and liturgical costumes to Pattee, when she returned to the San Joaquin Valley of California and established a Sacred Dance Troupe, Women at the Well. This ecumenical dance troupe performed for 13 years throughout the San Joaquin Valley and was also covered on t.v. during the Millennium Observance. During these years, Pattee taught Duncan Dance in private studios and at the local community college. Additionally, she was requested as an Artist-in-the-Schools, teaching Duncan Dance to elementary school age children from Gifted and Talented to behaviorally and learning challenged students. PG&E and other grants using dance in science were fulfilled using Duncan dance. Pattee studied intensively with Kathryne Cassis (a student of Hortense Kooluris and others, and former Director of the New Orleans Duncan Dance Repertory) in private sessions twice a week for over a year in Emeryville, CA. During this time she attended several workshops with Sylvia Gold on West Coast visits to the Bay Area.
Some years later she studied weekly for several years with The Isadora Duncan Dance Project Directors Ann Cogley and Christina Fessenden (students of Mignon Garland and others). During this period of time, Pattee began to study twice yearly at intensives in Manhattan, NY with Lori Belilove, Jennifer Sprowl, and Cherlyn Smith. She experienced workshops with Julia Levien during these intensives.
Pattee had the opportunity to assist Lori Belilove in dance performances in Grass Valley, CA and in coaching children with Christy Cornell-Pape for Lori in Berkeley, CA and at Mills College for the Isadora Duncan Dance Foundation performances.
Pattee is a Board Certified Dance-Movement Therapist with the American Dance Therapy Association, and has presented workshops for the American Dance Therapy Association, NDEO and the First International Isadora Duncan Dance Symposium about using Duncan Dance in healing with special needs populations.
Pattee presented two workshops on Duncan Dance in Sacred Dance, and also in working with special needs teenagers in dance therapy, at the First International Duncan Dance Symposium in Washington, D. C. in 2013. Additionally, she presented as part of a panel on Isadora Duncan Dance at the 2014 NDEO conference in Chicago, IL with Andrea Mantell Seidel, Meg Brooker and Ann Bloch. Pattee currently serves on committees working on the Isadora Duncan Archives, the 2015 Symposium, and Community Outreach, as an outgrowth of the First International Symposium on Isadora Duncan Dance.