Janaea Rose Lyn (McAlee)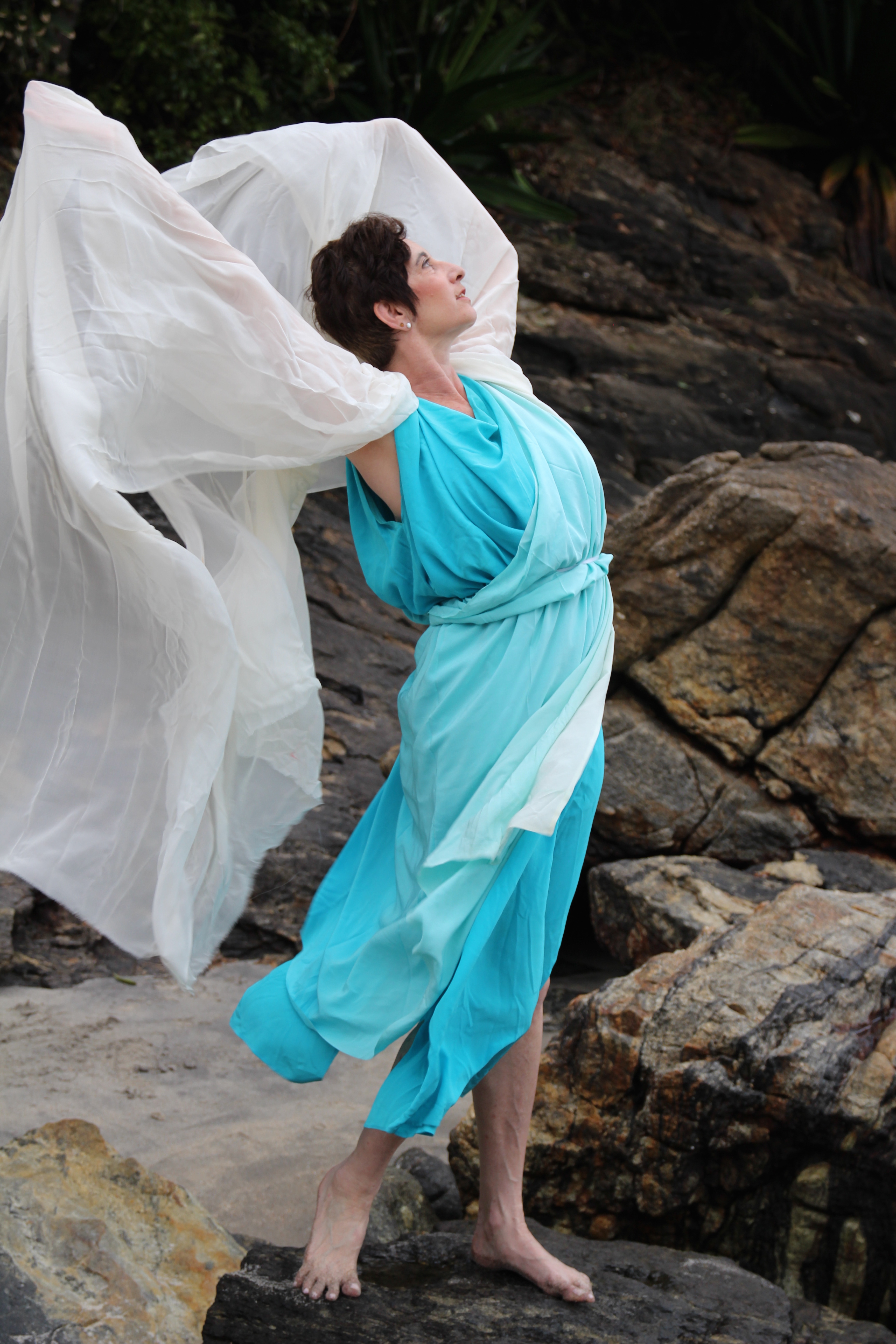 A Third Generation Isadora Duncan dancer, educator and historian, Janaea Rose Lyn (McAlee) began her career in 1975 as a member of the San Francisco Duncan Dancers, directed by Mignon Garland. Janaea was invited to the Akademia Raymond Duncan in Paris in 1979 as the resident Isadora Duncan dancer, teacher and historian. During her time there she had the opportunity to work with Madeleine Lytton, a student of Lisa Duncan and colleague Barbara Kane. Janaea initially curated archival materials at the Musee des Duncan which now appear in the book Life into Art, Isadora Duncan and her World by Doree Duncan, Carol Pratl and Cynthia Splatt.
Janaea returned to San Francisco where she was a company member and instructor with the Dionysian Duncan Dancers. She began the Duncan Performance Ensemble, debuting at the Victoria Theatre with pianist Bill Sorenson before returning to New York City in 1984. Janaea additionally studied with Julia Levien and Hortense Kooluris while teaching and performing as a Guest Artist with the Isadora Duncan Dance Foundation. She exhibited her personal collection of Duncan archival materials at their studio throughout the 1987/88 season. After relocating to Philadelphia in 1990, Janaea worked as the choreographer, movement coach and guest dancer/historian for the Wilma Theatre's production of Martin Sherman's play When She Danced, directed by Blanka Zizka. In 1994, Janaea was invited to the First Biennale of Contemporary Dance in Poznan, Poland and performed Duncan's work at the Grand Opera House with pianist Paul Fejko. She was the Guest Artist and Lecturer in 2000 for the exhibition of Line Dance: Abraham Walkowitz's Drawings of Isadora Duncan at the University of Delaware to inaugurate the donation of Virginia Zabriskie's extensive collection.
Over the next decade, Janaea taught and performed Duncan Dance at the Convergence Centre in Maryland. In May of 2012, Janaea was a guest teacher and speaker at the 135th Anniversary Celebration of Isadora Duncan presented by the Isadora Duncan Foundation at Judson Church in New York City. Her talk, A Postcard from Paris, highlighted her experiences at the Akademia Raymond Duncan in Paris.
Janaea relocated to Phoenix, Arizona in 2012, where she has been active as a Duncan teacher, historian and performer at regional studios, colleges high schools and festivals. In 2013, she was Guest Artist at Grand Canyon University where she set the Scherzo from Schubert's 9th Symphony on a multi-racial cast of ten dancers, including two men. Janaea taught master classes in Duncan Dance at the American College Dance Festival, West Region in 2013 and 2014 and performed at the 2013 Arizona Dance Festival. In July of 2013, she proudly participated in the First Isadora Duncan International Symposium and conference proceedings are posted in her website. She is a founding and current member of the Isadora Duncan Archive Committee.
In May of 2016 she was invited to Brazil by Paola Blanton to conduct the residency entitled "Undertow: Isadora's Waves of Movement and Meaning" at the Hob Salam studio in Sao Paolo. The workshop included a Duncan historical presentation, technique classes, and repertory work and was attended by local dancers and Fatima Suarez along with dancers from her Duncan dance company who traveled from Bahia to participate. The second part of the residency took place in Sao Sebastiao with a filmed performance at the beach.
In addition to her Duncan work, Janaea is a modern dance artist with a focus on creating and facilitating collaborative work. She was Founding/Artistic Director of both Convergence-Dancers & Musicians, and Dance Matrix, from 1989-1994. Janaea continues to be active as a free-lance choreographer, performer and educator.
Currently, Janaea is Residential Dance Faculty at Estrella Mountain Community College in Arizona. From 2006-2012, she was Assistant Professor of Dance and Performing Arts Program Coordinator at Cecil College in Maryland. Janaea holds a Masters degree in Choreography/Dance from Vermont College of Norwich University; and a Bachelor of Arts degree in Dance/Theatre Arts from Sonoma State University. Mentors include Mary Anthony and Bessie Schoenberg.
Affiliations
Dionysian Duncan Dancers — Company Member
Duncan Perfomance Ensemble — Founding Director
San Francisco Duncan Dancers — Company Member
Links
The Collection of Janaea Rose Lyn (McAlee)
Podcast for Correntenza ( Brazil 2016)
Videos
| Collection | Title | Date |
| --- | --- | --- |
| Janaea Rose Lyn's YouTube channel | Janaea performs Gavotte | 2013-10-11 |
| Janaea Rose Lyn's YouTube channel | Janaea performs Brahms 4 and 15 | 2013-04-26 |
| The Collection of Janaea Rose Lyn (McAlee) | Summer Flight | 1983-07-22 |
Related items in the Archives
The Collection of Christina Fessenden > Photos > DDD at S.F. Palace of the Legion of Honor — Dionysian Duncan Dancers
The Collection of Janaea Rose Lyn (McAlee) > Photos > Janaea and Dorée
The Collection of Christina Fessenden > Programs > CA Historical Society Performances — Dionysian Duncan Dancers — Jun 20, 1980
The Collection of Christina Fessenden > Programs > Lone Mountain Theatre — Dionysian Duncan Dancers — Jun 05, 1981
The Collection of Mignon Garland > Programs > S.F. Duncan Dancers, Bi-Centennial Event — 1976
The Collection of Janaea Rose Lyn (McAlee) > Programs > Summer Flight Program — Jul 22, 1983
The Collection of Annah G McCluskey > Programs > 2nd Annual Tribute/Recital to Isadora Duncan — Marin School of Isadora Duncan Dance — Jun 12, 1982
The Collection of Christina Fessenden > Other > Promotion for Jan. 1982 Margaret Jenkins Performance — Dionysian Duncan Dancers — Jan 1982