Maria-Theresa Duncan (1895-1987)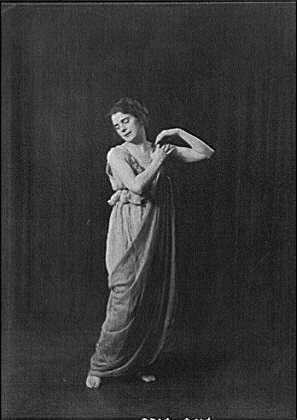 Maria-Theresa Duncan, born Maria-Theresa Kruger in Dresden, Germany on April 16, 1895. Isadora saw Maria-Theresa perform, and invited her family to come to a performance. Two days later Maria-Theresa was recruited, the oldest of the starting students at Grunewald, nearly 10 on her arrival. She danced with Isadora for sixteen years. In 1921, Maria-Theresa did not go to Russia with Isadora and Irma. She was about to marry art historian Stephen Bourgeois and wanted to dance and teach in USA. In the 1920's she brought the Duncan dances to colleges and concert halls. Photographer Steichen called her "the re-incarnation of a Grecian nymph." She extended her musical and choreographic repertoire beyond that of Isadora. Upon seeing Maria-Theresa's all-Chopin program, a Dance Magazine critic wrote of her "sparkle, gaiety and allurement …[she] gathered up murmurings of the sea, the rush of the wind … and flung them to her audience in magnificent abandonment". (Loewenthal, p. 102). Marie-Theresa formed her own performing group "The Heliconiades" in the 1930's. Maria-Theresa performed at the White House on May 2, 1933, at the invitation of Eleanor Roosevelt.

Maria-Theresa established the Isadora Duncan Dance International Institute with her 
pupil Kay Bardsley in 1977, and continued to perform throughout her later years. During the Centennial celebrations of Isadora Duncan, she was the only one of the original Isadorables able to participate. In her eighties, she danced.

The California Dionysian Duncan Dancers sent two students to study with Maria-Theresa for a year, to learn her version of particular group dances. Maria-Theresa's single most iterated advice to dancers was "absolute fidelity to the spirit and the dictates of the music" (Loewenthal, p. 103).

Maria-Theresa died in New York, on Dec. 14, 1987, age 92.
Publications
Duncan, Maria-Theresa. "The Spirit of Isadora Duncan," Music Journal, XVII, No. 6, September 1959, pps. 16 and 66, LCCN: 45017897, New York, Elmo Pub.
The Last Dancing Isadorable. Kay Bardsley. 1988. 30 minutes (Maria-Theresa Duncan).
Theresa-Maria, The Spirit of Isadora Duncan, Music Journal, XVII, No. 6 (September, 1959), 16 and 66.
Affiliations
Isadora Duncan International Institute — Founder (since 1977)
Heritage Dance Company — Founder
Helcionades — Founder/Director
Isadora Duncan Dancers (Isadorables)
Related items in the Archives
The Collection of Janaea Rose Lyn (McAlee) > Photos > Isadorables
The San Francisco Museum of Performance and Design > Programs > Isadorables — Dec 28, 1919
The Collection of Louise Craig Gerber > Programs > Isadorables Performance
The Collection of Joanna Gewertz Harris > Programs > Isadorables at Palais au Trocadero — Anna, Maria-Teresa, Irma, Lisa, Margot and Erica Duncan — 1920
The Collection of Barbara Kane > Programs > Three Full Length Masterworks — Maria-Theresa Duncan — Heritage Dance Company — 1979
The Collection of Janaea Rose Lyn (McAlee) > Programs > Isadorables
The Collection of Mignon Garland > Articles > Duncan Congress, Dance Magazine Article 1943 — 1943
Related references
Bardsley, Kay. "Re-animations of Duncan Masterworks: Imbued with the Fire of Maria-Theresa Duncan—A Four-year Project, 1976-1980." In Proceedings of the Conference "Dance Reconstructed: Modern Dance Art Past, Present, Future," pp. 191-200. Rutgers University, New Brunswick, NJ, October 16-17, 1992.
De Fina, Pamela. Maria Theresa: Divine Being, Guided by a Higher Order. Pittsburgh: Dorrance, 2003. ISBN 0-8059-4960-7