Anna Duncan (1894-1980)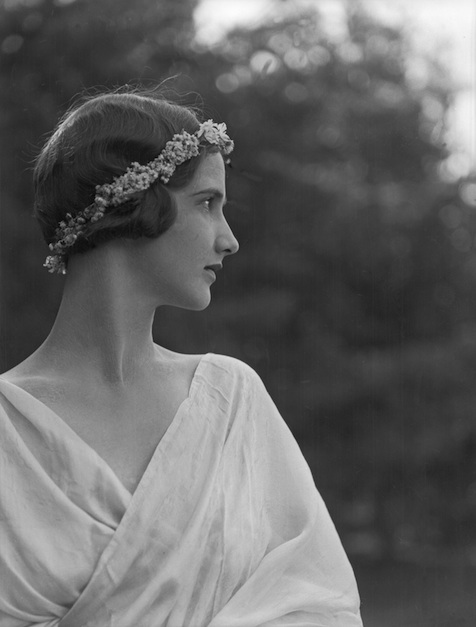 Anna Duncan, born Anna Denzler, 12/21/1894, in Switzerland [1]. She auditioned in January 1905 for the Grunewald school, and joined immediately. One of Anna's early performance memories was the city of Mannheim's Tercentenary Jubilee (1907). A floating stage was designed by Gordon Craig. Isadora entered on a sailing gondola followed by Anna and her fellow dancers in a separate gondola.

By 1925, Anna was in New York teaching dance and performing. Her first solo dance performance was at New York's Theatre Guild. After Isadora's death, Anna promised to dedicate herself to preserving the art and choreography of Isadora. She toured and performed often, both as a soloist and with the Riva Hoffman Dancers, and in her own successful company, the Anna Duncan Dancers. Dancers in Anna's company included: Anna Criss, Ester Lubin, Abigail Goodstein, Judith Seinfeld, Julia Levien, Selma Rubin and Ethel Goodman. A performance in 1931 at New York City's Lewisohn Stadium broke all attendance records.

When Irma's Russian students were deported the same year, Anna provided Irma with her own students, including Julia Levien, Mignon Garland, Hortense Kooluris and Sima Borisovana to continue the performances of the Isadora Duncan Dancers in over 51 American cities.

Anna attempted to film Isadora's dances to preserve the legacy, practicing with Julia Levien and Hortense Kooluris, but was unhappy with the technical results. The film was never released.[2]

Anna was known as an exacting teacher, demanding nothing less than perfection. Her pupil Mignon Garland called her teaching "brilliant", and Hortense Kooluris appreciated Anna's high standards that helped preserve Isadora's dances with little erosion. Lillian Loewenthal witnessed Anna's teaching in the 1960's, and describes Anna, age 70, demonstrating what she wanted in a turn[3]:

"Lighter than air, her torso and right arm moved upward, the left arm rising for counter-balance. The chest was beautifully expanded, the back but slightly arched; her small, well-poised head was lifted up and tilted back. As the arm overhead continued its outward motion, it propelled the body to turn her slowly in its direction. ….She completed one full turn without ever interrupting the smooth current of her motions and then she floated her movements upward, repeating the turn. As she completed the turn, she allowed her gestures to drift into a soft descent to the starting position.

That's all there was but it was all; the very heart of a movement's life – from it's inception to its expressive completeness. In her brief demonstration (more aptly, a mini-performance), Anna had made visible her teacher's concept of 'movement that mounts, spreads and ends with a promise of rebirth.'
Anna's last dance performance was in 'The Virgin's Name is Mary' in 1965. Near the end of her life, Duncan dancer Kathleen Quinlan Zetterberg helped Anna to tell her story and organize her archives. This resulted in two exhibitions at Stockholm's Dance Museum (1995 and 2010) and the accompanying books.

[1] From Anna Duncan: In the Footsteps of Isadora. Stockholm: Dansmuseet, 1995, 2010.
[2] Loewenthal, Lillian, The Search for Isadora, The Legend & Legacy of Isadora Duncan, New Jersey, A Dance Horizons Book, 1993, p. 96-97.
[3] Ibid, p. 94.

Publications
Duncan, Anna. Anna Duncan: In the Footsteps of Isadora. Stockholm: Dansmuseet, 2010. ISBN 978-91-979227-0-8
Duncan, Anna. Anna Duncan: In the footsteps of Isadora. Stockholm: Dansmuseet, 1995. ISBN 91-630-3782-3
Duncan, Anna. Anna Duncan: In the footsteps of Isadora. Stockholm, Dance Museet, 2010 ISBN 91-979227-0-8
Affiliations
Isadora Duncan Dancers (Isadorables)
Links
1941 performance at Jacob's Pillow (video clip)
Related items in the Archives
The San Francisco Museum of Performance and Design > Photos > Margot, Lisa, and Anna
The Collection of Barbara Kane > Photos > Anna Duncan postcard
The Collection of Janaea Rose Lyn (McAlee) > Photos > Isadorables
The Collection of Janaea Rose Lyn (McAlee) > Photos > Anna, Lisa, and Margot press clipping
The Collection of Janaea Rose Lyn (McAlee) > Photos > Anna and Lisa Duncan
None > Photos > Anna Duncan dancing Berceuse — 1920
The San Francisco Museum of Performance and Design > Programs > Isadorables — Dec 28, 1919
The Collection of Christy Cornell-Pape > Programs > April 1920 Isadorables program — Apr 06, 1920
The Collection of Louise Craig Gerber > Programs > Isadorables Performance
The Collection of Joanna Gewertz Harris > Programs > Isadorables at Palais au Trocadero — Anna, Maria-Teresa, Irma, Lisa, Margot and Erica Duncan — 1920
The Collection of Janaea Rose Lyn (McAlee) > Programs > Isadorables
The Collection of Barbara Kane > Other > Article about Anna Duncan