Annah G McCluskey
Primary teachers: Mignon Garland
Students: Pattee Russell-Curry
Began studying Duncan dance: 1974 (Third Generation)
Areas of expertise: Performer, Teacher, Repertory Coach, Choreographer
Location: Sarasota (USA - South)
Address: 7734 Silver Bell Drive Sarasota, FL 34241
Phone: 9413432982
Email: annahmccluskey@reagan.com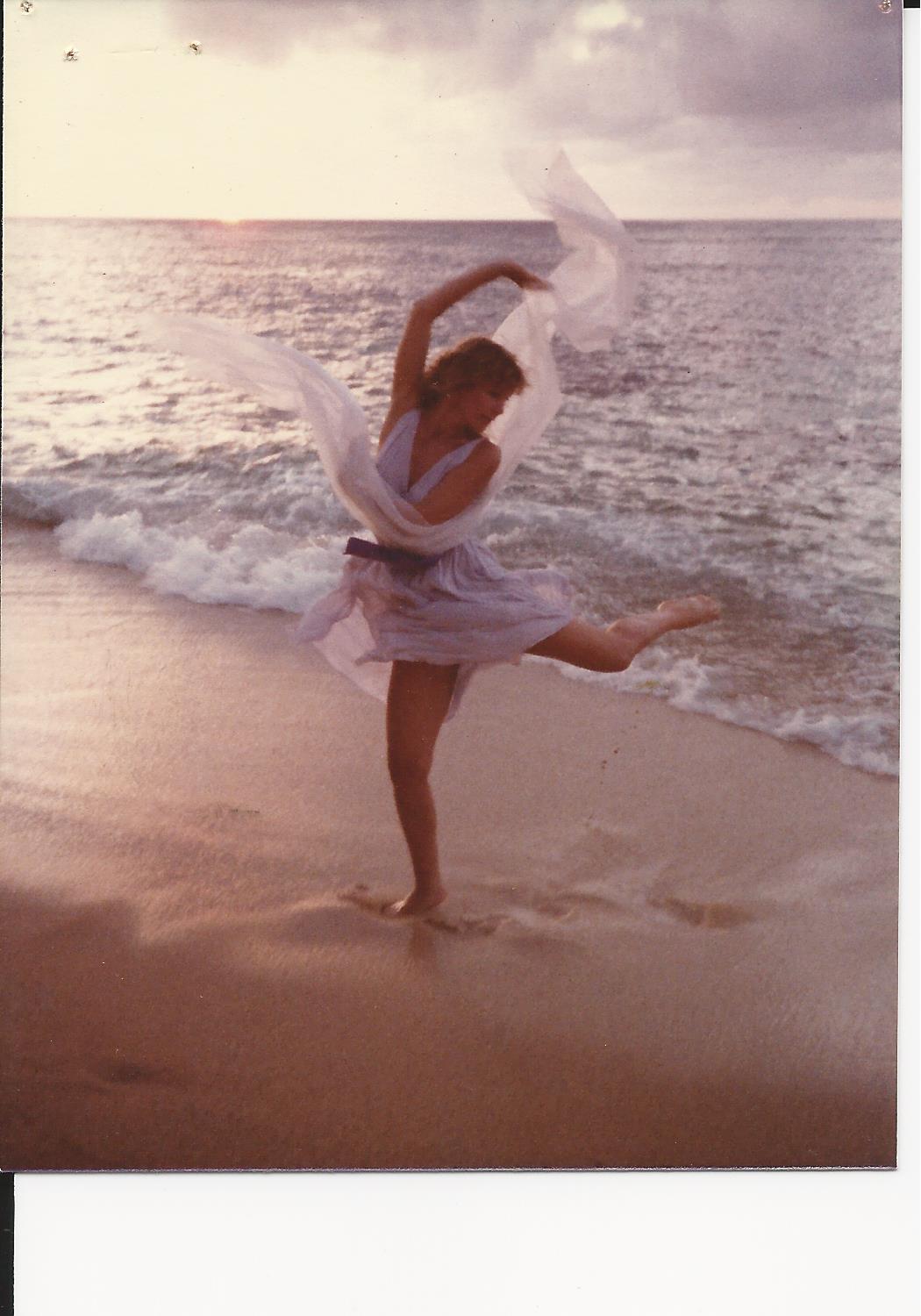 I trained and performed with Mignon Garland and her company, The San Francisco Duncan Dancers. In 1977, I toured the Soviet Union with Mignon Garland and her entourage as part of the commemoration of Isadora Duncan's 100th birthday. During the tour, company members enjoyed interactions with children at a Pioneer Camp in Azerbaijan, performance collaborations with dancers in Georgia and Armenia and an impromptu performance for guests in a ballroom at the Svetlana Hotel, Sochi, Russia. While in Moscow, I and two other dancers, located and toured the building in which Isadora conducted her school – we were admitted into the room where she slept.
I was a founding member of the Dionysian Duncan Dancers – 1977 to 1980 and assisted the establishment of a studio for teaching and performing on the corner of Main and Mission Streets in San Francisco.
I spent several years – 1980 to 1985 - at the Quitzow family's Temple of Wings in Berkeley teaching and performing with the Isadora Duncan Legacy Dancers. I was mentored by Sulgywnn Quitzow to learn her method of teaching dance to children and adolescents.
With a strong desire to share the spiritual aspects of Isadora's inspiring creation, in 1979 I brought my knowledge and abilities to the Community Congregational Church in Tiburon, California to establish a dance choir – The Psalms Dancers - which served both trained and untrained dancers. A Marin County community-based affiliate evolved: The Sun Dancers Sacred Dance Theater. The dance choir was absorbed into the company and classes, retreats, and moving rituals were inclusive with the overall training in Duncan technique, movement vocabulary and development of spiritual expression through dance. Performing opportunities were offered in liturgical settings and community concert halls. The dance company incorporated as a non-profit with a board of directors, fund raised and received funding from California Governor's Commission on Self Esteem. Additionally, I taught Duncan dance to children, in private schools and several Marin studios as well as to women of all ages – annual recitals were part of the programs.
In 1992-94, I rejoined the Dionysian Duncan Dancers for several concerts in the greater San Francisco Bay Area and traveled with three company members to Moscow to collaborate with descendants of Isadora's Russian school. This collaboration resulted in a concert - accompanied by members of the Moscow Chamber Orchestra – which was presented in the Kremlin. We were additionally fortunate to meet with and receive coaching from Elena Terentivia and several of her Irma Duncan dance peers. In particular, she coached Ave Maria with an emphasis on the center which was my role.
2023 finds me living contentedly in Sarasota, Florida where I maintain a "free spirit in a healthy body" through an active lifestyle of watercolor painting, ballroom line dancing, coordinating a book group, walking, and attending to my butterfly sanctuary/garden. I am care giver to my husband and I enjoy much help from my adorable kitty, Eva Green Eyes. Life is rich! I feel fortunate to have been graced by Isadora's creation; my life has been enriched by Duncan Dance sisters and I am deeply grateful to each of them.
Affiliations
Marin School of Isadora Duncan Dance — Director (1979—1992)
Sun Dancers Sacred Dance Theater — Director (1979—1992)
Isadora Duncan Legacy Dancers — Director (1982—1983)
Dionysian Duncan Dancers
San Francisco Duncan Dancers (1974—1977)
Temple of the Wings — Teacher (1980—1985)
Links
The Collection of Annah G McCluskey
Videos
| Collection | Title | Date |
| --- | --- | --- |
| Dionysian Duncan Dancers | DDD Performance at Mountain View, CA | 1994-03-25 |
| Dionysian Duncan Dancers | Dionysian Duncan Dancers Julia Morgan | 1993-09 |
Related items in the Archives
The Collection of Annah G McCluskey > Photos > Soviet Union Travel — 1977
The Collection of Annah G McCluskey > Photos > Recital of Older Students — May 28, 1981
The Collection of Christina Fessenden > Programs > Centennial Dance Recital — San Francisco Duncan Dancers — May 27, 1977
The Collection of Christina Fessenden > Programs > Studio Opening Benefit — Dionysian Duncan Dancers — Mar 18, 1978
The Collection of Christina Fessenden > Programs > DDDs with Lori Belilove — Dionysian Duncan Dancers — Mar 24, 1978
The Collection of Christina Fessenden > Programs > Studio Recital — Dionysian Duncan Dancers — Dec 01, 1978
The Collection of Christina Fessenden > Programs > Studio Benefit Performance — Dionysian Duncan Dancers — Jan 30, 1979
The Collection of Christina Fessenden > Programs > Isadora's 102nd Birthday Celebration — Dionysian Duncan Dancers — Jun 03, 1979
The Collection of Christina Fessenden > Programs > Santa Cruz 1979 Performance — Dionysian Duncan Dancers — Dec 09, 1979
The Collection of Christina Fessenden > Programs > Collaborative Performance — Dionysian Duncan Dancers — Apr 25, 1993
The Collection of Christina Fessenden > Programs > Julia Morgan Theatre Performance — Dionysian Duncan Dancers — Sep 1993
The Collection of Christina Fessenden > Programs > Mountain View Performance — Dionysian Duncan Dancers — Mar 25, 1994
The Collection of Mignon Garland > Programs > S.F. Duncan Dancers, Human Rights Day — — 1975
The Collection of Mignon Garland > Programs > S.F. Duncan Dancers, Bi-Centennial Event — 1976
The Collection of Annah G McCluskey > Programs > First Annual Tribute/Recital (Young Students) — May 28, 1981
The Collection of Annah G McCluskey > Programs > First Annual Tribute/Recital — May 28, 1981
The Collection of Annah G McCluskey > Programs > 2nd Annual Tribute/Recital to Isadora Duncan — Marin School of Isadora Duncan Dance — Jun 12, 1982
The Collection of Annah G McCluskey > Programs > 6th Annual Tribute to Isadora Duncan — May 21, 1989
The Collection of Christina Fessenden > Articles > Isadora's 100th Birthday Celebration — May 25, 1977
The Collection of Christina Fessenden > Other > Promotion for Jan. 1982 Margaret Jenkins Performance — Dionysian Duncan Dancers — Jan 1982
The Collection of Christina Fessenden > Other > Descriptions of DDD Class Offerings — Dionysian Duncan Dancers